My Favorite Sports Links!
---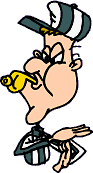 ---
The Browns have been my favorite football team since I was a very small boy. After a brief absence from the sports world they are back! This is their new home site and it is very cool.


My favorite baseball team. The Reds are baseballs oldest team and are rich in tradition and history. This is their official home page and it is a pretty cool site too! They are having a great season this year and this is the place to get the latest info on standings and team news.


The Dayton Dragons are the hometown minor league baseball team. Their gear is a serious collectable! Fun for the entire family. One of the best things ever to come to our town.


What can be said about ESPN that has not already been said or experienced by us, the fans? These guys are simply the best coverage of the world of sports today. If you can't find it on their page it just ain't worth following.
---